Winter holidays
Winter Cooking Academy
13.01 – 17.01 and 20.01 – 24.01
Winter holidays for children aged 6-12 in Kids' Kitchen
Kids' Kitchen invites all children aged 6-12 for winter break workshops. We guarantee delicous fun while preparing breakfast, lunch, and tea yourself. Cooking, roasting, and decorating snacks will satisfy even the most demanding gourmands. The dishes we will prepare will be, among others, homemade pasta with your favourite sauce, handmade hamburgers and buns, Silesian lunch, vegetable tart, quesadillas, mini crescent rolls, cinnamon sweet rollsm and banana drop scones. All these culinary challenges will be prepared by the children and written down in personal cookbooks :-) which will stay with the children for a long time.
Proceed to the form to sign up your child now!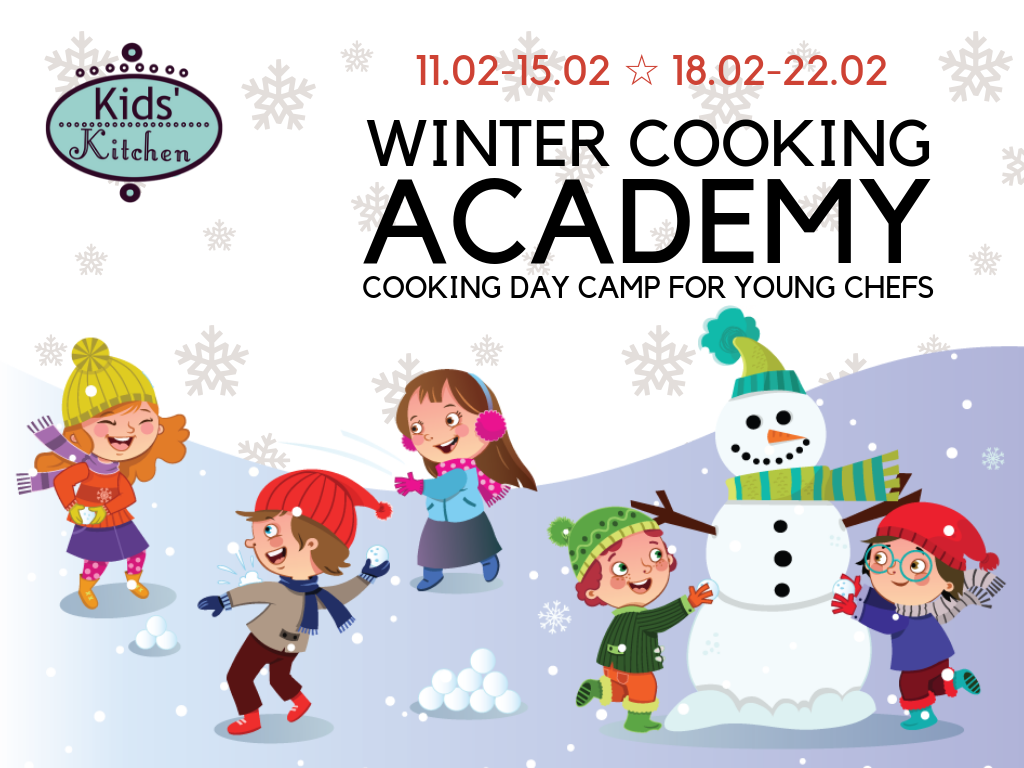 In the meantime, we also offer interesting physical activities. Depending on the weather, they can be indoors or outdoors: bowling, ice skating or skating, making a snowman and snowball fights… Moreover, creative activities not only in the kitchen, but also in the area of arts. Wonderful time guaranteed. Just join us…
During the first week, the group will be supervised by Ms Małgosia Andrysiak - a teacher and an artist, who teaches in the largest non-public school in our region.
During the second week of the winter break, Ms Alicja Pastuszka, an experienced teacher who teaches in the international school Complex of Silesian International Schools in Katowice, will take care of our aromatic, tasty, and colourful enterprise. So, apart from great fun and improving culinary skills, you will be able to work on your language skills! Ms Alicja and Ms Małgosia will be accompanied by nice and open-minded instructors and caretakers, who are always there to help the young students of culinary alchemy.
The whole team will be supported by incredible Mr Claudio Basaez – a teacher, a culinary expert and an amazing artist - a magician who came to us all the way from South America!
Long story short:
☆ 1st round: 13.01 – 17.01
☆ 2nd round: 20.01 – 24.01
☆ hours: 8:30AM-4:00PM (children are welcome from 7:30)
☆ price 600PLN / round (siblings and children from organized groups pay 550PLN per person)
☆ age of participants: 6-12
☆ qualified teachers
☆ paid accident insurance for every child
Don't hesitate, sign up now!
Contact:
502 308 740
kontakt@kidskitchen.pl
or text us on Facebook
Join us for tasty winter break!
Number of participants is limited!
Check the schedule of the workshops