Summer 2019
Summer Academy of Master Cooks invites you:
As in the previous year, Kids' Kitchen invites all children aged 6-12 years on a summer day camp in our magically wonderful kitchen :-)
This summer we will learn about various delicacies and less known dishes from around the world, among which there will be products of such cuisines as Mexican, Chilean, Italian, Spanish, German, French, Greek, Japanese, American or Indian. Though also many others :-).
Common culinary travels will create a map of one-of-a-kind stops and you will remember the holidays full of flavors and colors for a long time.
PROCEED TO THE FORM IN ORDER TO SIGN UP YOUR CHILD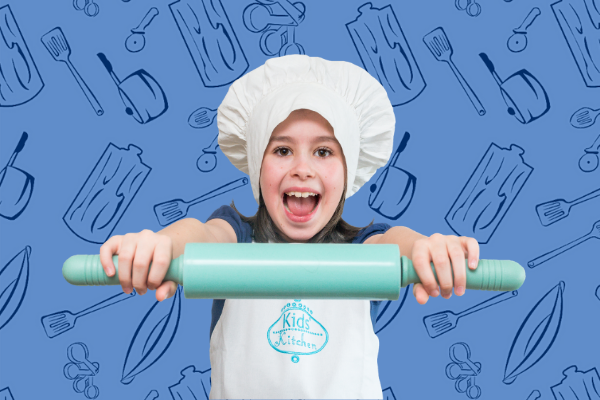 Exotic music, customs from four corners of the world and the ability to use everyday phrases in many languages ​​not only shall make you feel special, but also help you understand the diversity and richness of our and other cultures. Cooking is not the only attraction. As part of the course, we also propose interesting physical activities. Depending on the aura - under the roof or under a cloud. In addition, creative artistic activities are planned apart from culinary experiences. Excellent fun guaranteed. Let yourself be tempted ...
We start dynamically, so at the beginning of the holidays we commence the first out of many camps, each of which will start on Monday and end on Friday, that is five full days, the only exception being the turn in August 12-16 - four days due to the holiday taking place on Thursday, 15th August. Just for PLN 600 / turn (PLN 480 for the August four-day stay) per child or PLN 1,100 (PLN 900) for siblings, we will take you on a journey to the magical land of Kids' Kitchen, where good taste, language skills, great fun and unlimited fantasy will combine becoming one. We also plan an expedition outside the studio for a one-day trip, during which we will have a picnic and take part in a field game.
We will start every day at 9:00am (although you can arrive from 8:00) and finish at 4:00pm,
To sum up, we invite children aged 6-12, and the group can count up to 16 participants, so it is worth having a seat in advance. You do not have to bring anything with you, the only requirement being comfortable shoes and an open head full of ideas and good mood. Do not forget to ask if you are not allergic to any products or foods.
It's a good idea to make a decision quickly and then we ask that you fill in the form.
The number of places is limited, so it is not worth delaying.
All information:
tel. 502 308 740
mail: kontakt@kidskitchen.pl
you can also find us on Facebook: https://www.facebook.com/tudziecigotuja/
In brief:
Price: PLN 600 / turn (PLN 480 for the August four-day stay) per child or PLN 1,100 (PLN 900) for siblings
From 8:00am to 4:00pm
Children from 6 to 12 years old
Paid accident insurance for each child
Qualified pedagogical staff
Supervision over the day camps we run, as well as the qualifications of the staff, is exercised by the Board of Education.
You're still wondering, it's not worth the wait, sign up your child now!
We invite you to have great fun and go on a language journey through the world of flavors!
GO TO THE FORM
Join us!
The number of places is limited!